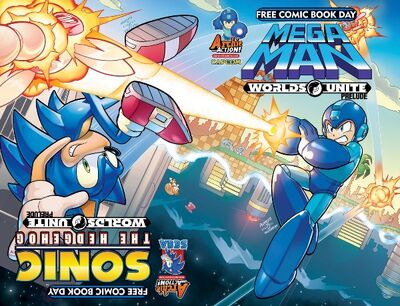 Worlds Unite is a mass video game crossover made by Archie Comics, centered primarily around the Sonic The Hedgehog and Mega Man franchises.
Viewtiful JoeEdit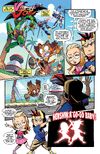 In Sonic Boom #10, Joe and Silvia witness Sticks The Badger fighting Sting Chameleon and Axl fighting Volt Kraken. Joe and Silvia instantly mistake the two villains for Cameo Leon and Dr. Cranken, and decide to help out.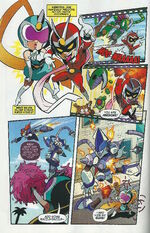 Without being in
Movieland
, Joe and Silvia need an audience to activate their
V-Watches
, so they catch Sticks' attention long enough to transform.
Joe's signiture "VJ" hand sign is once again altered, with Joe instead using a variation of the "devil horns" hand sign.
Joe alludes to Viewtiful Joe 3, stating that he is still waiting for another sequel.