Character name


Image caption
Vital statistics
Title
Gender
Gender
Race
Bianky
Faction
Jadow
Health
Health
Level
Level
Status
Status
Location
Location

Verdys are types of Biankys.
Background
Edit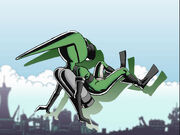 Involvement
Edit
Verdys and Jet Vertys appear through out the 1st game and specifically work for Charles the Third in the anime.
Verdys try to attack you by dropping missiles while Jet Verdy's launch heat seeking missiles. You can hit Jet Verdy missles back at them to defeat them.
External links
Edit
Ad blocker interference detected!
Wikia is a free-to-use site that makes money from advertising. We have a modified experience for viewers using ad blockers

Wikia is not accessible if you've made further modifications. Remove the custom ad blocker rule(s) and the page will load as expected.